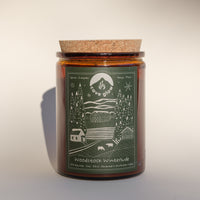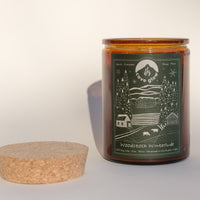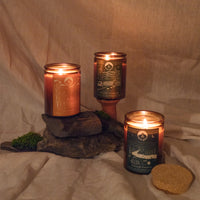 Notes: Spruce, Evergreen, Hemp, Moss and Patchouli 
Description: This scent was inspired by a slow, winter day spent in Woodstock, NY. A pine tree coated in snow, observed through a frosted antique window. A wood burning stove and a good book. With notes of spruce, evergreen and fraser, this scent memorializes the vast native pine and evergreen forests in the Catskills and the grounding, herbaceous scent of hemp.
Details: Each amber candle contains 12oz of responsibly sourced soy wax, a cotton-braided wick and phthalate-free essential and fragrance oils. Each is designed to burn cleanly, featuring an extended 80hr burn time. All of our candles are made in small batches in Kingston, NY with a keen eye kept on craftsmanship and quality candle making. 
Instructions: Trim wick to 1/4 inch before lighting. Keep candle free of any foreign materials including matches and wick trimmings. Only burn the candle on a level, fire-resistant surface. Do not burn the candle for more than 4 hours at a time. Always burn candle within sight and always keep out of the reach of children and pets.