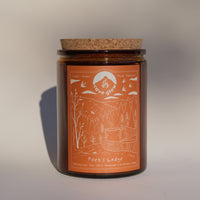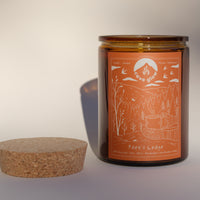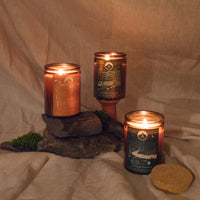 Notes: Cedar, Amber, Musk, Patchouli, Sandalwood
Description: With notes of evergreens, spice and a hint of nectar, this scent was inspired by an autumnal daytime adventure up to Poet's Ledge--complete with a warm festive beverage in a thermos and knitted pair of mittens. 
Details: Each amber candle contains 12oz of responsibly sourced soy wax, a cotton-braided wick and phthalate-free essential and fragrance oils. Each is designed to burn cleanly, featuring an extended 80hr burn time. All of our candles are made in small batches in Kingston, NY with a keen eye kept on craftsmanship and quality candle making. 
Instructions: Trim wick to 1/4 inch before lighting. Keep candle free of any foreign materials including matches and wick trimmings. Only burn the candle on a level, fire-resistant surface. Do not burn the candle for more than 4 hours at a time. Always burn candle within sight and always keep out of the reach of children and pets.