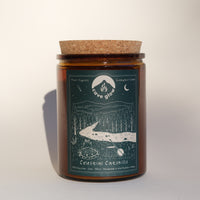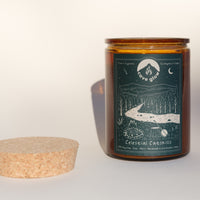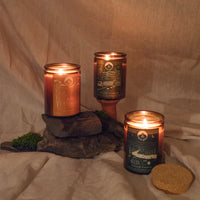 Notes: Pine, Cypress, Bayberry, Rosemary, Cedar, Eucalyptus. 
Description: This candle was inspired by a big breath of fresh crisp mountain air and a starry night sky--the feeling of being small in front of the expansive Catskills mountain range & the prehistoric cosmos. Celestial Catskills evokes a winter's night chill with top notes of eucalyptus and lavender. Resinous pine is at the heart of this scent, and it rests on an herbal, woody base of rosemary, cedar, and oakmoss.
Details: Each amber candle contains 12oz of responsibly sourced soy wax, a cotton-braided wick and phthalate-free essential and fragrance oils. Each is designed to burn cleanly, featuring an extended 80hr burn time. All of our candles are made in small batches in Kingston, NY with 
Hand-poured in Kingston, NY. We make all of our candles in small batches using only 100% soy wax, premium phthalate-free fragrances & essential oils, and lead-free, zinc-free wicks. No additives, dyes, or preservatives.
Instructions: Trim wick to 1/4 inch before lighting. Keep candle free of any foreign materials including matches and wick trimmings. Only burn the candle on a level, fire-resistant surface. Do not burn the candle for more than 4 hours at a time. Always burn candle within sight and always keep out of the reach of children and pets.