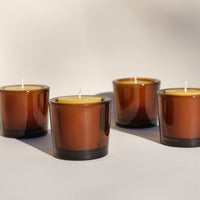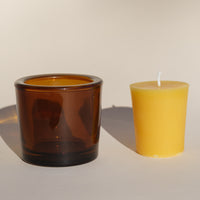 Beeswax Votive & Amber Glass Set
This set features a set of four votive beeswax candles with matching weighted amber candleholders. Perfect for those looking to add ambience and mood lighting to their home, and designed for those who are head-over-heels for the sweet, deep smell of pure beeswax. No additional scent is added to this candle to feature the beneficial detoxifying properties of beeswax. 
Hand-poured
in

Kingston,

NY. We make all of our beeswax candles in small batches using 100% beeswax and cotton core wicks.