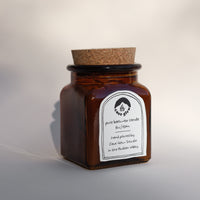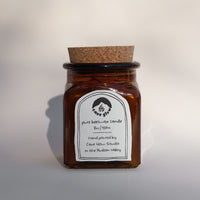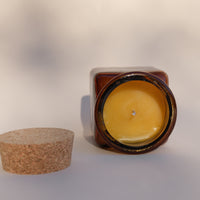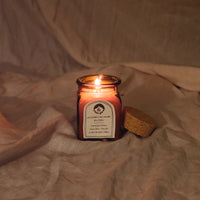 This candle features 8oz of golden beeswax poured into a vintage inspired square amber jar with a biodegradable cork top. This handcrafted candle is meant to conjure up the feeling of a simple and earthy home. Classic and bright. Perfect for those looking for ambience and mood lighting, and designed for those who are head-over-heels for the sweet, deep smell of pure beeswax. No additional scent or dye is added to this candle to feature the beneficial detoxifying properties of beeswax. 
Hand-poured in Kingston, NY. We make all of our candles in small batches using only 100% beeswax and cotton core wicks. 
Instructions:
Trim wick to 1/4 inch before lighting. Keep candle free of any foreign materials including matches and wick trimmings. Only burn the candle on a level, fire-resistant surface. Do not burn the candle for more than 4 hours at a time. Always burn candle within sight and always keep out of the reach of children and pets.